Kiseki-o (鬼箱王, Kiseki-Ō?, lit. "King of the Demon Box"), birth name Kizekio (キゼキオ, Kizekio?), is a high-ranked possession-type demon of the Black Demon Series. He formed a contract with Shihō Kimizuki and became his Cursed Gear. His weapon form is two twin blades connected by a cord on the hilts.
Appearance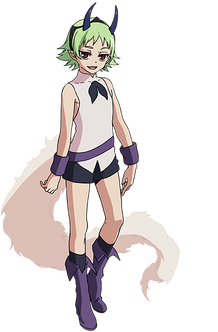 Kiseki-o appears as an androgynous preteen. He has short, light green hair with short bangs and short eyebrows. He has red eyes, pointed ears, fangs, black horns as long as his forearm (only after he drinks Kimizuki's blood), and a fluffy white tail as long as he is tall. He wears a black headband behind his horns and a dangling earring with a sapphire orb on his right ear.
Kiseki-o is dressed in a white sleeveless collared shirt with a black knot with a brown belt and short black shorts. He wears black cuffs on his forearms, matching socks that reach up to a few inches below his knees, and black boots with heels that he leaves unzipped halfway.
He often takes the image of Kimizuki's younger sister, Mirai, while battling him for control.
Anime: In the anime, his horns are dark blue and his earring orb, belt, cuffs, and boots are purple.
Personality
As a possession-type demon, Kiseki-o is particularly proud and nasty, and he is utterly unwilling to surrender to the weak. He uses the memories of Kimizuki's sister against him to break his will.
Unlike Yūichirō Hyakuya and Asuramaru, Kimizuki must assert his dominance through violence. Despite the way he acts, Kiseki-o claims to like Kimizuki. This does not stop him from insulting Kimizuki as pathetic and questions if he has been rendered speechless by his inadequacy. Although condescending and capitalizing on moments to make Kimizuki feel worse such as happily agreeing that he saw Kimizuki was too weak to save his sister, Kiseki-o is able to provide clear guidance on what he wants Kimizuki to do.
History
At some point Kiseki-o was stood in between Byakkomaru and Raimeiki with Asuramaru and Gekkouin present as well surrounding Sika Madu. Spoken to as the first's chosen disciples Kiseki-o was asked to help him save the world from the catastrophe that looms in the far future. Opting out was possible for there would be no glory or reward to be gained yet the answer 'yes' was given on whether they wanted to see this through.[1]
At some unknown point, Kiseki-o along with Sika's Madu apostles, and Noya is present as well in a room stood surrounding the first as they watch him holding a young Yu who is unconscious as he stands near the clear casket containing the body of Mikaela. Above the room are floating black suns.[2]
Kiseki-o along is seen along with the other demons Gekkouin, Raimeiki and Byakkomaru who are around Sika Madu enter the room where Noya, Ashera and Yu is. He remains silent.[3]
Kiseki-o is a demon who was sealed within Cursed Gear in the form of twin swords connected by chains.
Story
Events of 2020
Second Shibuya High Arc
Although Kiseki-o does not actually appear, he takes the form of Mirai and uses an environment of Kimizuki interacting with his sister from the past. He begins with speaking pleasantly, replying as Mirai that she is not too bad and thinks it is going to be a good day for them, before asking why her brother does not leave Mirai to fend for herself so he can move on with his life. Saying if things do not change Kimizuki will end up dead too, as Mirai she answers that Kimuzuki does not really mean that he intends to have them both survive. At that point Kiseki-o drops the pretence of acting like a sweet girl, yet still as Mirai he darkly speaks that Kimizuki wishes Mirai would just die already. Rising from bed, Kiseki-o states that despite how noble Kimizuki tries to be, deep down he is a selfish human who only thinks of himself. Kiseki-o confirms that he is the demon, and questions whether he was right about Kimizuki's thoughts. He has seen every shameful thing that has floated through his little brain and wonders what his sister would say if she knew the truth.[4] Aware of it, he matches Mirai's concern that Kimizuki forges a contract with him in chapter 6 and does so faster than Yūichirō and Asuramaru.
Post-Shinjuku Arc
In chapter 21, Kimizuki advances his training with Kiseki-o, and they battle for over 30 hours. Shihō screams and shakes as they fight within his mind. Shinoa warns her squad to be prepared to eliminate Kimizuki if he loses control.
In Kimizuki's mind, he struggles against Kiseki-o, who taunts and then stabs him, catching Kimizuki's blood in his mouth. He insists that Kimizuki's body is already his and bites him, commanding him to break and sending him into his illusion. Kimizuki relives his past of four years ago when he was eleven years old. Mirai says to leave her behind, and Kimizuki realizes this is an illusion once again. Kiseki-o corrects him, saying that these are his true memories and insisting that he wanted to abandon his sister.
Three other kids around Kimizuki's age come to his apartment door and say it's time to move. They try to convince him to kill Mirai, who is an invalid and is always holding them back. They say she told him she wanted this. When he refuses to, they say they will do it for him. He breaks free and locks them outside of the apartment. Mirai insists on Kimizuki killing her, and Kimizuki keeps telling her to shut up. The demon reveals his deepest desires, insisting he resents taking care of Mirai and wondering why this all happened to him.
Kimizuki approaches Mirai and begins chatting about Yu. He says Yu wants to rescue his family no matter what, even though they aren't blood related. Kimizuki says that if the only solution is to kill his sister, then he will choose death. He insists he will never do what the demon says and stabs himself to break free.
Recovered from the psychic wounds, he charges at Kiseki-o and cuts him. Kiseki-o says there is still darkness in Kimizuki enough to betray his friends if it meant saving his sister. Kimizuki insists there is no one without darkness in this world, and Kiseki-o smiles. He says he likes humans and Kimizuki and decides to lend Kimizuki his power.
Post-Shibuya Arc
Kiseki-o later pays attention when Kimizuki and Yu start fighting, where Yu had the upper hand and Kimizuki started losing. As he saw Kimizuki was just as pathetic as always. He keeps screaming a desire to save his sister and begging him to grant more power but Kimizuki does it for show. Kiseki-o adds further that Kimizuki is not desperate enough and is not nearly as insane as his opponent which it why he is weaker than Yu. In addition deep in Kimizuki's heart he truly given up on his sister. All he really wanted was a peaceful life with friends and have fun and Kiseki-o queries what is wrong with the nice dream.[5] Kiseki-o finds him dull as he was speechless and wonders if Kimizuki was rendered speechless by his own inadequacy. Agreeing having seen it that Kimizuki was too weak to save his sister Kiseki-o would not say it is all bad that Kimizuki is justifying excuses not to try. Placing a hand on his shouler Kiseki-o has watched Kiizuki, observing from inside him this whole time. Judging him a very rational person and caring for his friends Kiseki-o continues to say that Kimizuki always tries to help everyone but this results in him losing sight of his own desires.[6]
Asked what Kimizuki desires Kiseki-o answers he have to figure it out himself and not to ask him whether Kimizuki is weak because he has not. Kiseki-o wants to hear Kimizuki's soul and voice, to forget about his sister and friends. He wants Kimizuki's selfish, childish ugly desires. As Kimizuki cries, that he is sick of it, wanting to win and he cannot stand Yu showing him up all the time Kiseki-o sees it and asserts that Kimizuki can do it. It is the first time Kimizuki has really opened his heart to him and the walls his logic put up are finally coming down. Placing his hand in Kimizuki's chest Kiseki-o can now give him power. Guiding him to forget about his sister, friends, and his responsibilities Kiseki-o wants Kimizuki to tell him he wants more for him to give it. The twin coffins power is able to be summoned.[7] Later Kiseki-o relaxes in a coffin with the lid open in his realm and notices Asuramaru. Greeting him he wonders whether his memories have finally come back too as it seems that the king has finally awakened.[8]
One of Kiseki-o's coffins has been laid in the street of the illusionary world that Mika is in with something imitating Yu. Kiseki-o is beside Asuramaru as they peer down and is relatively sure that he should be able to get in there without him (Mikaela) noticing. He reacts to the coffin on his side rattling before being flung off his feet as Kiseki-o is struck by a large spiked cross that has launched itself through his coffin doorway. Suspended in the air Kiseki-o states that some of his power has been taken. Telling Asuramaru that he cannot move, Kiseki-o asks that he get him down. Replying that the king was powerful he hardly thinks he will die less so since the human he is possessing has learned to let loose far more lately. Kiseki-o will devour some of his desire and he will manage.[9]
Whilst he concentrates on healing Kiseki-o mentions whether Asuramaru could show some concern then raises the matter of him ever worrying about him should Asuramaru ever be on the verge of death. Answering that the king is normal and absorbed in his own world of pleasures Kiseki-o adds that the king maintaining that world is going to require a boatload of human desire. With there being a problem of the king possessing people at random where they could lose him Kiseki-o's response is that they need to open a connecting pathway quickly and pour desire into it for him. Ordering Asuramaru not to rush him in his healing process, from what Kiseki-o saw the two of them will not be able to contain the king. He calls for aid which comes from a materialized coffin that grants Gekkouin access to his world. With his wellbeing inquired about by Gekkouin he turns to Asuramaru to say that is how to worry properly and whether he understands now. Since the king's escape needs to be prevented Kiseki-o insists he is working on healing and asks for ten seconds at which point Kiseki-o will be healed enough to open the path then.[10]
Now that he is ready Kiseki-o manifests a coffin that is promptly impaled. Electing to open several Kiseki-o directs Asuramaru and Gekkouin to go into one that stays open. By several Kiseki-o meant conjuring a tremendous amount of coffins that fill the air.[11] Having infiltrated the dream world Kiseki-o along with his black demon accomplices stand on rooftops surrounding Mikaela.[12] The many coffins Kiseki-o left in Asuramaru's plane are seen by Yu who recognizes them as looking like the ones that Kimizuki can create.[13] Kiseki-o does not engage Mikaela directly in his world but uses the time to locate the house where the young Mika and the illusionary Yu are. Confirming with Asuramaru that he sees it Kiseki-o claps to create a coffin behind where Asuramaru is that leads to where Yu and Mika are.[14] Enabling Asuramaru to reach there and with Gekkouin having managed to strike Mikaela he adds that they have been around far loner longer and will not be outdone by a newborn. Kiseki-o claps again to cause he coffins to disappear so Mikaela will not be able to quickly follow Asuramaru.[15]
With Mikaela despondent having failed to stop Mika from stabbing his family Kiseki-o is eager to get him bound before he can recover. Along with Asuramaru and Gekkouin they place their hands over Mikaela and Kiseki-o comments with Mikaela weakened they must bind him quickly.[16] Noticing Ashera react to something he asks what is it but does not appear to have heard Yu's voice as Asuramaru did. He is shocked at Asuramaru's arm being severed[17] but keeps his own hand stable as Yu erupts out of Asuramaru's chest with the intent to save Mika.[18] Responding fast to this unexpected occurrence and at Asuramaru's direction to not let Yu touch the king, Kiseki-o takes one of Mikaela's arms and flees with Gekkouin.[19]
From a distance away Kiseki-o can sense that Ashera's presence has disappeared and with Gekkouin they discuss whether he was taken out. Not answering whether they have a chance against the intense power that can be sensed, Kiseki-o replies how Gekkouin expects him to know regarding whether this is part of Sika Madu's plan which now does not involve them. Recalling being amongst the five black demons around Sika Madu, presently Kiseki-o agrees with Gekkouin that they cannot afford to fail if this is something the first did not foresee. With the king left to him Kiseki-o states he does not have the skill that Ashera has in matters of the heart but he will have Mikaela's crushed in ten minutes.[20] Shouting Gekkouin's name having spotted Yu behind him[21] Kiseki-o strikes Yu from behind and calls him a meddling brat. Reminded that he was told to focus on the king Kiseki-o replies to Gekkouin that he is not going to last that long. Conjuring his two swords Kiseki-o stands battle ready with one of his shining coffins behind him.[22]
Joining Gekkouin in attacking Yu, the Coffins of Chaos power is invoked[23] which causing multiple large ones to crash down. With one clamping over Yu's arm Kiseki-o excitedly announces he got him. Stunned to inaction at Yu dealing with the matter by slicing his own arm off that promptly regenerates, Kiseki-o is unable to intervene as Gekkouin is cut apart. Instructed to run to warn Raimeiki and Byakkomaru, before Kiseki-o and the coffin above him can react he finds Yu drop right in front of him. Angrily damning him Kiseki-o drops his weapons as he is dismembered across the waist. Determining that failure is not an option Kiseki-o reaches towards his coffin meaning to draw more power from his human. He finds Yu reach it first.[24] With Kimizuki withdrawing power lies still on the ground.[25]
The twin swords are ready to use by Kimizuki, who reacts to Guren's order to restrain Yu when the restoration of the world is potentially at hand.[26]
Powers and Abilities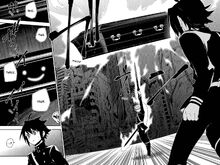 Demon's thrall: Kiseki-o can enter his host's dreams and memories to create nightmares and break his host's will. This is done in order to take over his body. This ability can only be used against his host.
Basic form: Connected with a pair of twin swords are Kiseki-o's most basic form. He gives his bearer great strength and power. By calling his name, he gives his bearer even greater power. A melee-type weapon, Kiseko-o can refer to the swords themselves.
The Devil's Coffin: Kiseki-o's special ability involves manifesting and opening the devil's coffin on the count of nine. Anyone who hears the counting at a close distance will be forcefully captured into the devil's coffin upon reaching nine. Yu claims to get very bad vibes from it and believes it to be something really nasty. This type of ability should be impossible for a possession-type demon.

Twin Coffins: An enhanced version of the original ability, but instead of one coffin, two can be summoned instantaneously, They appear in close range on either side at the target. Instead of the count to nine, this technique does not require counting. Instead it fires a barrage of spiked dark projectiles at close range.

Coffins of Chaos: The swords Kiseki-o was physically wielding were emanating fire and speaking the name of the power caused a large coffin to drop down upon a target. Multiple ones descended to the ground and began chomping on whatever came into contact.
Self-regeneration: As well as being capable of surviving powerful impaling attacks such as a stake through his chest Kiseki-o can use a human's desire as the means to recover. Placing his hands over the wounded area, Kiseki-o verbally willed himself to heal where time of at least ten seconds was required to recover.
The Coffin: The coffin itself can be placed into another demon's realm as a means of infiltration. Multiple ones can be summoned and also bring other demons to where Kiseki-o is. The gateways also permit allied and hostile powers to pass through. Kiseki-o could not sense that one of his coffins in another place had spectral crosses surrounding it before being stabbed by one. He can clap to cause these coffin portals to disappear so that others cannot follow through them. Having one float behind him and radiating a light appeared to be an aspect of his fighting capabilities. At being seriously injured Kiseki-o reached to touch his coffin to draw more power from his human. In this case in these circumstances physical contact may have been required to regenerate and Kiseki-o could not remotely prevent the coffins from relaying Yu's communications through it.
Relationships
Shihō Kimizuki
A special private in the Japanese Imperial Demon Army, Shihō Kimizuki is under the Moon Demon Company, whom Kiseki-o forms a contract with. He describes Kimizuki as ugly, young, and naive, but he claims to like him. Their battle for control can be violent with Kimizuki asserting his control through sheer power. He often creates illusions with Kimizuki's sister Mirai in order to break Shiho's will. When Kimizuki is failing in his sparring against Yu, Kiseki-o invites himself into the matter to voice that Kimizuki shouts a desire to protect Mirai as a show. In reality he has given up on Mirai of which Kiseki-o understands that it is a nice dream for Kimizuki to just want to live peacefully and have fun with friends. Whilst he articulates Kimizuki's inner conflicts Kiseki-o says that Kimizuki has to figure out his desires and to not ask him. Some pointers are that he does not not need the thoughts of a rational adult as Kiseki-o encourages him to embrace selfish desires. Having identified logic as a wall around Kimizuki he wants him to forget his sister, friends and responsibilities. To Asuramaru he speaks of how the human he is possessing has learned to let loose far more lately so he can devour some of his desire to regenerate from an injury. While Kiseki-o intended to draw more power from Kimizuki when injured he would not receive it.
Yūichirō Hyakuya
Kiseki-o used his ability to restrain Yūichirō Hyakuya from being overtaken by his demon. Using the Devil's coffin ability was sufficient in achieving this purpose, causing Yu to fall unconscious and nullify Asuramaru's influence. Kiseki-o feels Yu is stronger than Kimizuki because he is more desperate and insane. Seeing him physically in the dream world Mika was in Kiseki-o focused on getting Mikaela away from him. With no other option but to fight Kiseki-o physically and at range attacked Yu where he addressed him as a meddling brat. When the Coffins of Chaos power had proved ineffective and with the battle evidently lost Kiseki-o damned him before being cut apart.
Mirai Kimizuki
Shiho Kimizuki's ill younger sister, Mirai Kimizuki was infected by the apocalypse virus even though she was younger than 13, and Kimizuki has taken care of her since then. This has been very stressful for Shiho, and she even wanted Shiho to kill her back then. She is currently under JIDA's care. Kiseki-o is fully aware of and exploits their connection, often taking her form to torment Shiho. He wondered what Mirai would say if she knew the truth of Kimizuki's thoughts.
Asuramaru
At seeing Yu's demon in his realm Kiseki-o greeted this black demon and questioned whether Asuramaru too had at last regained his memories. They work together to sneak into the demon realm where Mikaela is. Kiseki-o asks for his help in getting off a spiked cross he is impaled on and raises how Asuramaru should show some concern for the injury he sustains from the king. He knows enough about Asuramaru to feel that the two of them will not be enough to contain Mikaela. Kiseki-o helps Asuramaru reach where Mika and Yu are in their joint effort to capture Mikaela. He is attentive to him and asks Ashera what is it when he reacts to something. He follows Asuramaru's instruction to escape with Mikaela and appears surprised to no longer be able sense him.
Gekkouin
Requiring further assistance to contain the king, Kiseki-o relies on Gekkouin for help and uses a coffin to allow Gekkouin entry to his world. He is receptive to Gekkouin's concern at his wound. Along with Asuramaru these three black demons manage to access the realm where Mikaela is. Working together with Gekkouin he would help him in the fight against Yu having intervened since it was clear Gekkouin would not last long.
Demon Mika
Addressing Demon Mika as the king Kiseki-o could sense his awakening. His efforts to infiltrate the world Mikaela is in are noticed but at being attacked Kiseki-o only comments on his power. Deeming the king normal for being absorbed in a world of pleasures Kiseki-o knows it will take him a boatload of human desires to maintain it and he means to help the king maintain this.
"
Indeed. We've been around for far, far longer. We won't be outdone by a newborn.
"

–A view regarding the newly born rank one king Mikaela. Chapter 100: "A Demon Appears", page 38
This changes to helping Asuramaru capture Mikaela where the intent of keeping him satisfied all but disappears. Taking him out of Yu's reach Kiseki-o intended to crush Mikaela's heart and take him in.
Sika Madu
In the past Kiseki-o was chosen as one of Sika Madu's disciples and willingly joined him in saving the world from the future calamity. Where he is presently known as the demon Shikama Doji, he is ready to comply with his order to retrieve Mikaela's spirit.
Raimeiki
Kureto's sword bound demon Raimeiki, who Kiseki-o was stood beside when Sika Madu was speaking. They were both third progenitor vampires and disciples of Sika Madu.
Byakkomaru
Shinya's rifle based demon Byakkomaru, who like Kiseki-o is one of the first's disciples.
Gallery
Image gallery: Kiseki-o
Quotes
"
La la. La de dah de dah. Well now, Shihō Kimizuki. Would you like to give up?
"

–Kiseki-o to Kimizuki. "Kiseki-o's Box"
"
I do not submit to the weak.
"

–Kiseki-o to Shihō Kimizuki "Kiseki-o's Box"
"
This is the end, Human. Relive your past. See your inner darkness. Look at your deepest, ugliest desires. Let 'Shihō Kimizuki' break.
"

–Kiseki-o to Kimizuki. "Kiseki-o's Box"
"
There, see? For a moment, you wished you could end it all. You were sick of it. You wondered why all this had to happen to you. You were only a child, after all. It was hard. You were scared. You wanted someone to save you. You wanted to run away from it all, forever. If only you had actually killed your sister... If only you had rid yourself of that burden... Wouldn't it have been better? Yes... That's exactly what you thought, isn't it? It is over, Shihō Kimizuki. You failed at life that day, when you made the decision you did. There's no need to be stubborn. Take the easy path. It's simple. Just take that knife and do what you should have done then. Come on. Put your sister out of her misery.
"

–Kiseki-o to Kimizuki. "Kiseki-o's Box"
"
...Ah well. There is no rush. After all, there is still darkness inside of you. Darkness so deep you wouldn't hesitate to betray your friends if it meant saving your sister.
"

–Kiseki-o to Kimizuki. "Kiseki-o's Box"
"
Yes... That's right. That's why I like humans. And I like you too. I guess I could lend you my power. You are ugly, young and naïve... but you may call upon me to possess you.
"

–Kiseki-o to Kimizuki. "Kiseki-o's Box"
"
Our prey is caught! Now, kill it! KILL! KILL! KILL! KILL! KILL! KILL! KILL! KILL!
"

–Kiseki-o to Kimizuki after capturing Yu in his coffin. "Asura's Power"
"
You aren't nearly as insane as him. That's why you're weaker than him.
"

–Feeling that Kimizuki is weaker than Yu and why Chapter 95 "A Demon's Tale" page 29
"
Deep in your heart... ...You've given up on your sister
"

–After addressing how Kimizuki keeps screaming that he is going to save his sister, for show. "A Demon's Tale" page 30
"
All you really want is a peaceful life. To hang out with friends. To mess around and have fun. And what's wrong with that? It's a nice dream.
"

–Voicing what Kimizuki really desires and in favour of it. "A Demon's Tale" page 30
"
You're a very rational person. You care a lot about your friends. You always try to be the one adult in the room... ...helping everyone else. But because of that... ...you lose sight of your own desires.
"

–Appraising Kimizuki's character and his behaviour around others. "A Demon's Tale" page 32
"
Let me hear your soul. Forget your sister. Forget your friends. I want your selfish, childish, ugly desires. I want to hear your voice.
"

–At his level Kiseki-o guides Kimizuki. "A Demon's Tale" page 33
"
That's the first time you've really opened your heart to me. The walls your logic put up are finally coming down.
"

–Making his own progress and knowing logic as the barrier in the way. "A Demon's Tale" page 36
"
It'll work. I think. I should be able to get in there without him noticing-
"

–Working with Asuramaru to access the world Mikaela is in and confidant of his own surreptitiousness. "The King's Chambers" page 7
"
Hey! How about some concern, hm?
"

–His response to Asuramaru commenting how he always makes so much noise after being injured and suggesting empathy. "The King's Chambers" page 11
"
If all of us die now, there wouldn't be anyone to carry out the plan. That's inadvisable, so I haven't called them yet.
"

–Taking into account that he and other black demons could die, revealing the five member plan they have and thinking strategically on it. "The King's Chambers" page 14
Trivia
In Japan, characters like Kiseki-o are considered to be masculine on facial appearance, as a common Japanese myth and element is that young-male demons are baby-faced which would appear rather effeminate elsewhere.
References