Welcome to the Wiki!
Welcome to the Owari no Seraph Wiki!
We are currently editing over 659 articles since April 16, 2013.
Note: This wiki contains spoilers, read with caution!
Synopsis
A viral calamity has devastated the world. Previously hidden vampires have emerged to take what's left of it. Orphans Yūichirō Hyakuya and Mikaela Hyakuya are two of the survivors who have joined the remnants of humanity in becoming enslaved and reduced to livestock. Along with their chosen family they dream of a better life and make their plan to escape.
Years later, Yūichirō is training to join the Japanese Imperial Demon Army, willing to embrace Cursed Gear to enact vengeance upon the vampires for what they put them through. Though Vampires, Demons and the Seraph of the End are not the only hardships that lie ahead.
Latest Chapter
Chapter 82: Mahiru-no-Yo
Saitō and Shikama Dōji are locked in battle, making Shinya, Mito, Goshi, Shigure, and Sayuri wonder why they're there. In another location, Ferid and Crowley exchange pleasantries while observing the First's battle.
Still elsewhere, Mahiru tempts Guren into transforming into a full demon. Guren strengthens his resolve as he recalls the reason why he wanted power in the first place. Taking the final step, Guren begins his complete demon transformation while Shinya and the rest of the team go searching for him. Upon finding him, Shinya and company successively become able to see Mahiru's form and attempt to stop her. However, they are too late. Inside Guren's mind, Noya erupts out of Mahiru's body, which Mika, Krul, Saitō, and the Shikama Dōji all pick up on. Having awakened, Noya tempts Guren to take the true final step.
Read the full summary here.
Featured Article
Seraph of the End: Guren Ichinose: Catastrophe at Sixteen (終わりのセラフ 一瀬グレン、16歳の破滅, Owari no Serafu - Ichinose Guren, 16-sai no Hamestu?) is a fantasy and paranormal fiction light novel prequel series, written by Takaya Kagami and illustrated by Yamato Yamamoto. It narrates Guren's story in the year leading up to the Apocalypse, approximately eight years prior to the start of the manga series, Seraph of the End: Vampire Reign.
Both the light novel and manga began within a few short months of each other and were ran concurrently at almost the same speed. Kodansha began the novels' publication in January 2013 and completed the series in December 2016.
Read the full article here.
Recent Blog Posts
Click to join the:
The rules help everyone enjoy themselves best!
Poll
How would you respond to a vampire noble on the battlefield?
Random Cover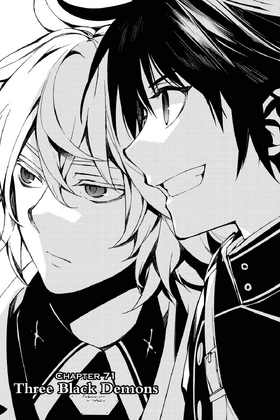 Contribute to this Wiki!
To create a new article, simply enter the article title in the box below:
Trouble getting started?
If you are new to wikis, check Help:Getting Started
Don't be afraid to just jump in and start it! Others can edit and improve whatever you make.
Check out the community portal to see what the community is working on, to give feedback or to just stop-by and say hi.
Help the wiki by editing article stubs and creating wanted pages.
Community content is available under
CC-BY-SA
unless otherwise noted.