Welcome to the Wiki!

Welcome to the Owari no Seraph Wiki!
We are currently editing over 945 articles on the manga written by Takaya Kagami and illustrated by Yamato Yamamoto, anime by Wit Studio then prequel light novels, everything on Seraph of the End!
Note: The vampires, demons, seraphs and spoilers are all out to get you, read with caution!
Synopsis
A viral calamity has devastated the world. Previously hidden vampires have emerged to take what's left of it. Orphans Yūichirō Hyakuya and Mikaela Hyakuya are two of the survivors who have joined the remnants of humanity in becoming enslaved and reduced to livestock. Along with their chosen family they dream of a better life and make their plan to escape.
Years later, Yūichirō is training to join the Japanese Imperial Demon Army, willing to embrace Cursed Gear to enact vengeance upon the vampires for what they put them through. Though vampires, demons and the Seraph of the End are not the only hardships that lie ahead.
Latest chapter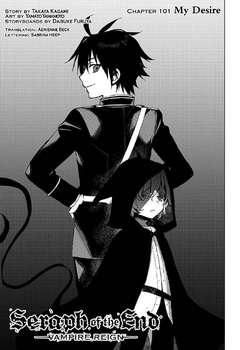 Chapter 101: "My Desire"
Mika orders Yu to get the kids outside before acquiring a knife and stabbing Asuramaru repeatedly. Asuramaru sees Mika's deepest fear, that he was responsible for his family's deaths. He adds that Mika's deepest desire was to have someone blame him for that so Asuramaru means to have him murder his family now.
Yu hears Mika call to him and intends to save him. Guren and Mahiru consider how Mika should have no memories and that it could be one of Shikama Doji's traps. Shinoa is still containing the first so as Guren has the spell circle activated he announces they are to save Mika as family. Guren insists that Mika is a demon who has forgotten Yu and will try and possess him.
As Mika finishes the illusionary Yu he is blamed for their family's deaths. Asuramaru joins Mikaela outside with Gekkouin and Kiseki-o and states they won. Asuramaru has heard the first will awaken soon so they set about binding Mikaela before he can recover. Hearing Yu speak to him Asuramaru presses them to hurry before Yu ruptures out of his chest and reaches towards Mikaela.
Read the full summary here.
Featured article
Seraph of the End: Bloody Blades (終わりのセラフ BLOODY BLADES, Owari no Serafu: Bloody Blades?) is an RPG for iOS and Android devices.
Read the full article here.
Click to join the:
The rules help everyone enjoy themselves best!
Random Covers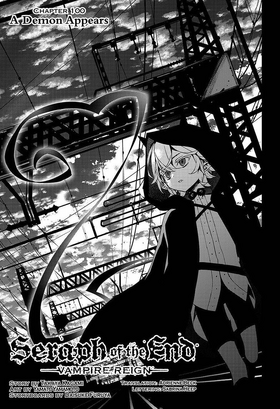 Contribute to this Wiki!
To create a new article, simply enter the article title in the box below:
Trouble getting started?
If you are new to wikis, check Help:Getting Started.
Don't be afraid to just jump in and start it! Others can edit and improve whatever you make.
Check out the community portal to see what the community is working on, to give feedback or to just stop-by and say hi.
Help the wiki by editing article stubs and creating wanted pages.
Finally, please read our policies before any editing.
Community content is available under
CC-BY-SA
unless otherwise noted.