Welcome to the Wiki!

Welcome to the Owari no Seraph Wiki!
We are currently editing over 1,091 articles on the manga written by Takaya Kagami and illustrated by Yamato Yamamoto, the anime by Wit Studio then prequel light novels, everything on Seraph of the End!
Warning: The vampires, demons, seraphs and spoilers are all out to get you, read with caution!
Synopsis
A viral calamity has devastated the world. Previously hidden vampires have emerged to take what's left of it. Orphans Yūichirō Hyakuya and Mikaela Hyakuya are two of the survivors who have joined the remnants of humanity in becoming enslaved and reduced to livestock. Along with their chosen family they dream of a better life and make their plan to escape.

Years later, Yūichirō is training to join the Japanese Imperial Demon Army, willing to embrace Cursed Gear to enact vengeance upon the vampires for what they put them through. Though vampires, demons and the Seraph of the End are not the only hardships that lie ahead.
Latest chapter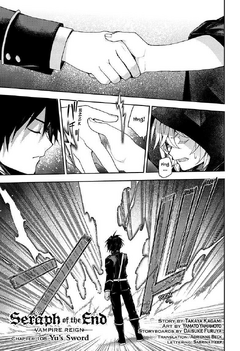 Chapter 108: "Yu's Sword"
Demon Mika changes his form and Yu hears he is his sword now. They fight against the First, who is able to regenerate his head. Needing to draw upon his desire for further power, Yu wants to protect everyone and wants his friends to love him. They clash with Sika Madu who does want them to merge any further.
The First warns them the power they are using may be noticed. It already has been, by three seraphs. Sika Madu raises a barrier, but is attacked by Yu with Mika, also Kimizuki and Yoichi. The seraphs speak of a great sinner who defied holy law to revive the cursed child and brought blight upon the entire world.
When the seraphs attack, Sika Madu calls for Rigr and Urd where chains pull him away. The First speaks how the angels are their enemy. Saitō and Urd are glad to see the First, and mention how it was said he would tell them all. Sika Madu is within a prison with his hands bound.
Read the full summary here.
Featured article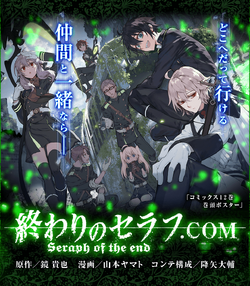 Owari no Seraph.Com, also known as Owarino-seraph.com, is the official Japanese website for the manga and anime series, Owari no Seraph.
Read the full article here.
Click to join the:
The rules help everyone enjoy themselves best!
Random Covers
Contribute to this Wiki!
To create a new article, simply enter the article title in the box below:
Trouble getting started?
If you are new to wikis, check Help:Getting Started.
Don't be afraid to just jump in and start it! Others can edit and improve whatever you make.
Check out the community portal to see what the community is working on, to give feedback or to just stop-by and say hi.
Help the wiki by editing article stubs and creating wanted pages.
Finally, policies can help with editing.