Welcome to the Wiki!

Welcome to the Seraph of the End Wiki!
We are currently editing over 1,100 articles on the manga written by Takaya Kagami and illustrated by Yamato Yamamoto, the anime by Wit Studio then prequel light novels, everything on Seraph of the End!
Warning: The vampires, demons, seraphs and spoilers are all out to get you, read with caution!
Synopsis
A viral calamity has devastated the world. Previously hidden vampires have emerged to take what's left of it. Orphans Yūichirō Hyakuya and Mikaela Hyakuya are two of the survivors who have joined the remnants of humanity in becoming enslaved and reduced to livestock. Along with their chosen family they dream of a better life and make their plan to escape.

Years later, Yūichirō is training to join the Japanese Imperial Demon Army, willing to embrace Cursed Gear to enact vengeance upon the vampires for what they put them through. Though vampires, demons and the Seraph of the End are not the only hardships that lie ahead.
Latest chapter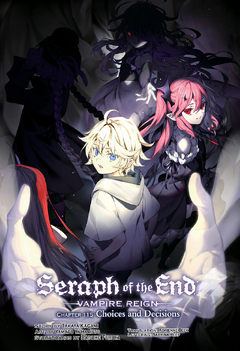 Chapter 115: "Choices and Decisions"
The squad hold off as Yu is spoken to by Mika. Although Mika reminds Yu that he is pointing his sword at his family, Yu says he is family too and wants to bring him back. Speaking of bringing others back, Mika states Guren went through hell to get this far.
Yu says he cannot give up on Mika, yet he wants to restore their family. Where Mika thought he could do anything with Yu, he reveals his guilt at feeling responsible for their family's deaths. Sharing how living hurt, Mika asks for Yu to save his heart. Mika persuades Yu for them to bring the others back and they can be together forever. Making a decision, Yu tells Mika to devour his desires. Needing all the power, Yu becomes a demon and attempts to escape. Guren calls the vampires to help otherwise their plan is screwed. Everyone collectively tries to stop Yu, and it is Krul who throws him into the ground. Needing more power, Yu demands that Asuramaru give it.
Read the full summary here.
Featured article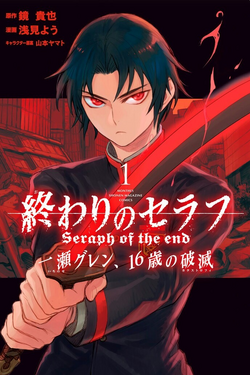 Seraph of the End: Guren Ichinose: Catastrophe at Sixteen (終わりのセラフ 一瀬グレン、16歳の破滅, Owari no Serafu - Ichinose Guren, 16-sai no Hamestu?) is the manga adaptation of the light novel series of the same name, written by Takaya Kagami and illustrated by Yo Asami.
Read the full article here.
Click to join the:
The rules help everyone enjoy themselves best!
Random Covers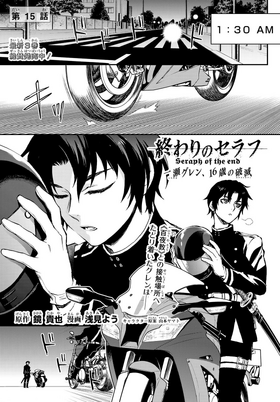 Contribute to this Wiki!
To create a new article, simply enter the article title in the box below:
Trouble getting started?
If you are new to wikis, check Help:Getting Started.
Don't be afraid to just jump in and start it! Others can edit and improve whatever you make.
Check out the community portal to see what the community is working on, to give feedback or to just stop-by and say hi.
Help the wiki by editing article stubs and creating wanted pages.
Finally, policies can help with editing.