Shinoa Hīragi (柊 シノア, Hīragi Shinoa?) is the main female protagonist of the Seraph of the End: Vampire Reign manga series and the younger sister to Mahiru Hīragi. She is from the prestigious and rich Hīragi Family and was appointed as Yūichirō Hyakuya's supervisor during his suspension. She was a sergeant of the Japanese Imperial Demon Army and the leader of the Shinoa Squad (シノア隊, Shinoa-tai?) in the Moon Demon Company.
She was ultimately possessed by Shikama Dōji, shattering away her humanity. However, Shikama Dōji later leaves Shinoa's body, thanks to the efforts of Guren, Mahiru and Noya, which the latter using sinful keys, sealing him away and returning Shinoa's mind to her.
She also appears in the light novel series Seraph of the End: Guren Ichinose: Catastrophe at Sixteen as Mahiru's messenger.
Note: This is the page for Shinoa in the manga and light novels, for the anime article detailing Shinoa see: Shinoa Hīragi (Anime).
Appearance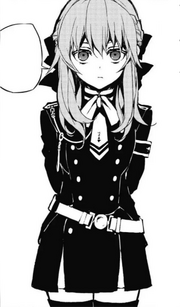 Catastrophe
In the light novels, Shinoa is described as a short, adorable, and beautiful young girl with shoulder lengthened ashen hair same as Mahiru's, and the large bow on the back of her head is a dark shade of magenta and is at the end of a twisted braid. Guren describes her as having clear, piercing amber-red eyes that seemed to stare out at the world and skin so pale that it was almost transparent to her blood. On her left arm, she has a black shackle.
She wears a black sailor-like uniform with 10 yellow buttons along the side of the dress. Placed before the last set of buttons, she wears a silver belt, and on her hands are white gloves. There are 2 green stripes around the wrists of the uniform, and on the neck side, she wears a dark pink bow tie.
Vampire Reign
As a teenager, Shinoa has grown taller, but is still notably shorter than many other characters. She has a petite, thin figure, and now has her hair is pinned up at the back with a magenta bow and side braids. After being possessed by Shikama Dōji, her eyes become a pale yellow with thinner irises and pupils.
At the beginning of the series, she is shown wearing her school uniform, a sailor fuku which consists of a grey blouse with black cuffs that have teal trim in the middle. It has a black sailor-style collar with has teal trim and a single five teal petal design in the middle. The ribbon of the uniform is also teal and is tied in the front and laced through a loop attached to the blouse. The bottom is a black skirt. She wore it with dark blue knee high socks and white shoes.
After Yūichirō was accepted into the Moon Demon Company, she is often seen wearing her Japanese Imperial Demon Army uniform which consists of a long-sleeved black coat with a standing collar which has a magenta bow tie around it. The coat has two rows of gold buttons on the front, light green details including the shoulder epaulets, which has a fourragère passing under and around her right side. Along with that, she wears a pair of white gloves, an armband on her left arm, and a white web belt with a gold waist-plate. She also wears the standard black skirt, dark gray thigh-high socks and knee-high black boots.
Her casual appearance does not differentiate much from her JIDA uniform. The minor differences are that she doesn't have her gloves along with the bow tie on her collar, and wears a white long-sleeved dress shirt with a camisole over it.
Personality
Shinoa has a sarcastic, apathetic attitude and does not put much emotion into her words. She loves teasing others and is quite dry-humored. Shinoa generally tends to smirk before teasing or performing her antics towards others, placing them in uncomfortable situations. She can be proud and arrogant but has a nice, joyful and cheery part of her. Rarely, Shinoa shows that she can have a scary and manipulating side.
Her personality while fighting is steady and momentum is used to keep her scythe active around foes. At times, she lacks self-control and will get mad easily, increasing her tone and growling. Shinoa keeps her developing emotions for Yuichiro in reserve, as she says she wants to keep her feelings "professional" and because of this, she shows to have a tsundere side.
Due to her circumstances surrounding her family, Shinoa grew up without knowing what a sibling is, and never truly cared about anyone until her current squad was formed. She greatly respects Yūichirō's resolve and feelings toward his family and wants to help him. She shows surprisingly little emotions when talking to Yūichirō about her sister's death, suggesting that Shinoa is emotionally detached to people she knows and keeps her friends away at an arm's length.
In Catastrophe at Sixteen, Shinoa is revealed to be a lonely girl, shut away in an apartment on her own. With high expectations of herself Shinoa thought how her older sister was a once-in-a-century genius and so she could not live up to these expectations.[3] Whilst Mahiru remained her only friend but in the end, the demon possessing Mahiru consumed her humanity, and that shattered Shinoa's resolve to form bonds with others. When Shinya and Guren offered to take care of her after seeing the mess in her apartment, she pushed them away, claiming that they are only there to use and exploit her. Shinoa's lack of faith in others caused her to believe that she can only rely on herself, as there is no one else to trust. Because of this, she trusts people less overall and is more negative about things, and messy if she is alone.  
Shinoa shows that she does not care about the conflict inside her family, claiming that family conflicts are what caused the death of her older sister.[4] Unlike Kureto, she lacks ambition and only wants to serve the army well. She explained to some soldiers that she does not actively seek a rise in rank, and her lack of ambition (and Mahiru overshadowing her) is what caused her to be cast out from her family.
However, it was not until after she lost the mock battle between her squad and Guren's three-person squad, did Shinoa finally realize the fear of losing someone important to her, and even a tiny mistake or her pranks can cost her family their lives.[5] Also, she and her squad can grow even stronger and the closer they grow, the more powerful they shall become.[6]
Shinoa has a vulnerable complex about her short stature when Yūichirō and Shihō teased her for being too short to drive a car, she laughs smugly before proceeding to materialize her Cursed Gear to physically teach them a lesson.[7]
She developed feelings for Yūichirō, in which she is uncertain of.[8] This is shown more when she later speaks with Shikama Dōji.[9]
As a leader of her squad, Shinoa takes a calm and strategic approach to situations.
After being possessed by Shikama Dōji, her personality changes drastically. She becomes merciless, violent and ruthless, attacking anyone who might pose a threat to her (under Shikama Dōji's influence) this is largely shown when she attacks Ferid and Crowley whom Ferid tried to kill her. This follows Ferid breathlessly telling others to run from her.[10] With Shikama Dōji and her demon power in control, she also attacked Guren, Shinya, Kureto and Mika for no reason at all, just for her own amusement.[11] She has also developed the power to cut off one's head with her fingertips or hands.
Story
For the total coverage story detailing Shinoa's history as well see:
Story: Shinoa Hīragi
Shinoa Hīragi is assigned to monitor Yuichiro Hyakuya who fails to work well with others. She relays Guren Ichinose's orders that Yu is to befriend someone to lift the punishment. Encouraging Yu to intervene when Yoichi Saotome is being bullied Shinoa also alerts the [Moon Demon Company]] to the presence of an escaped vampire. After displaying her cursed gear scythe Shinoa reveals the entire school as being a training ground for the army and is surprised that Yu can overcome one of the demons bound to a weapon kept there. Joining Yu and Yoichi in the vampire extermination unit, Shinoa shares updates to Guren regarding Shihō Kimizuki.
With members of her new squad having gained black demon weapons, before investigating a vampire lair outside Shibuya Shinoa has the fifth member of her squad, Mitsuba Sangū join her. With her squad she helps rescue a girl from a Four Horsemen of John which was a trap set by vampires. Ascertaining the location of their base Shinoa takes part in clearing it and freeing the humans kept there.
Travelling to Shinjuku and finding it under attack, Shinoa is targeted by a vampire noble, Crowley Eusford. Surviving that since the vampires left for the front lines Shinoa distributes Cursed Gear Stimulants to her squad to assist with their weapon capabilities. Arriving where the Moon Demon Company is engaging the vampire invaders Shinoa finds Yu stopped his attack on the vampire threatening Guren since he is Yu's friend Mikaela Hyakaya. At Guren's urging Shinoa would act to pacify a one winged monstrous form of Yu. After the battle was won with the arrival of the Japanese Imperial Demon Army Shinoa confronts Guren on whether the supplements were responsible for what transpired at Shinjuku. Warning Yu of her Hīragi Family members she is also wary of Guren himself.
Journeying to Nagoya for a large scale operation targeting vampire nobles, Shinoa has her squad combined with Makoto Narumi's. With Shinya Hīragi as well they successfully defeat vampire noble Lucal Wesker. With other operations having failed Shinoa prepares to rescue hostages at Nagoya city hall and agrees with Yu's plan to help against the nobles there. Escaping to the airport Shinoa recognizes that the vampire in their path is Mika and she goes against the other squads to save him then help him escape with Yu. Making it Shinoa watches as Kureto arrives where the survivors of the vampire noble extermination mission are sacrificed to bring a seraph into the world. Shinoa with her squad along with Narumi and Mika escape from both the army and the influx of vampires who have found them.
Three months later near the sea it is decided they rescue the captured vampire queen Krul Tepes for help in saving Kimizuki's sister Mirai Kimizuki and retrieving Guren. Found by Ferid and Crowley first, Shinoa has little option but to head with them to Osaka Bay. With foreign vampire nobles having amassed there and Ferid captured with Krul she travels to Ferid's mansion with Crowley. Once Guren arrives they formulate a plan to rescue the vampires they need from Ky Luc guarding them. With that partially successful with Ferid with them Shinoa regroups at Guren's residence where a seraph is being kept.
Arriving in Shibuya, Shinoa is surprised to find her demon Shikama Doji act on his own where she is asked to open her heart to him. Doing so in an attempt to rescue Yu from him Shinoa begins transforming into a vampire as she is overcome by Shikama Doji. Her body is used as the first vampire Shikama Doji fights anyone nearby before seeking out and battling Saitō who leads the Hyakuya Sect army against Shibuya. After the first is sealed Shinoa seeks out Yu and escapes outside the city.
As they collect themselves Shinoa is seemingly keen to hear details of her sister from Krul.
Powers and Abilities
Natural abilities
As a member of the Hīragi Family, Shinoa proves herself qualified to handle a weapon of the Black Demon Series as seen when Guren engulfed the classroom with his Cursed Gear's aura, albeit the weapon she wields is a lower class.[12] As leader of her squad, Shinoa remains levelheaded and takes an analytical approach at dire situations. She is knowledgeable about weapons, demons, seraphs, and vampires as well as the Demon Army politics. Her natural abilities include physical abilities, and mental abilities, such as having strong resistance to opponents. According to Shikama Doji, she is the first person to actually wound him by throwing her scythe at him despite being an immortal being.[13]
As a child, Shinoa was naturally and highly skilled at martial arts, and also skillful in using magic; Guren once mentioned that she is an incredibly gifted child that looks like a genius. Using her sturdy build and physical strength, Shinoa proves to have the physical abilities to take down multiple vampires at once. Even before acquiring her scythe at seven-years-old, Shinoa's martial arts skills was more than enough to kick and take down vampires and humans possessed by demons. Minus using her legs, she additionally was shown being able to wield her scythe extremely well despite her young age, like when she was able to deflect several bullets at once when protecting Goshi. Shinoa is a very strong girl and Guren states that she has the strength that surpasses him, despite having any sort of formal training.[14]
Shinoa is also shown to have a strong range in battle, she can jump very far and sprint very fast. She has good strength in her arms, and legs for tough kicking skills. Her arm muscles are used for punching, as well as carrying and use for her scythe. When possessed, she occasionally uses her fingertips to cut off one's head with a single swift with her hand or her fingertips.[15] Shinoa does have high agility, which causes her to jump and move easily, jumping over fences and walls way taller than her.
Strong resistance to demons: Shikama Dōji has said that Shinoa is the perfect product of the experiments, and that she is able to resist any demons that she comes in contact with.[14] This is due to the fact that she doesn't have a lot of desires in her heart. Shikama Doji also mentions that Shinoa can contract to any number of demons without being possessed. Shinoa is still unaware of this.[14] As of eight years later, Shikama Dōji stated that in hundreds of years of possessing the Hīragi family, there has never been a vessel of her caliber, noting that there would be no need for him possessing Kureto any longer once he starts possessing Shinoa.[16] Which the latter succeeds in doing so.[17] After he leaves her body (whom she was possessed for a while), she wasn't affected in any way and immediately recovered normally without any harm to her body.[18]
Shikama Dōji possession: After Shikama Doji possessed Shinoa, her strength increased tremendously, overpowering and defeating Ferid effortlessly.[19] Shinoa has also shown the ability to summon and materialize multiple scythes to attack.[20] In addition her agility has increased as she can jump through high building's windows and smash them,[21] and is able to dodge Saito's multiple chain attacks.[22] She also has gained the ability to have the angelic wings of Shikama Doji for flight,[23] and materialize numerous and enormous ethereal scythes around her wings that whirls around similar to a halo of scythes becoming a deadly attack.[24] She usually cut off one's head with a single swift with her hand or her fingertips.[25]
Equipment
Talismans
Shinoa is seen to be skilled with talismans as Guren noted her as an exceptionally gifted child, her talents befitting of her family name.
Cursed Gear
Shikama Dōji (

四鎌童子

Shikama Dōji

?

, lit. "Four-Scythe Child"): A manifestation-type demon weapon from an unknown series. Shinoa takes out a pen-length black rod and spins it, which then transforms into a black massive scythe with a thick, black aura around it. She can call out the demon, which she fondly addresses as "Shi", inhabiting it out of the weapon to attack an enemy. It is strongest at mid-range. Her primary ability is to detect anything that comes within the attack radius of her scythe.
Relationships
Relationships: Shinoa Hīragi
Gallery
Image gallery: Shinoa Hīragi
Quotes
Trivia
Four 「四」 can be read as "Shi" 「し」. Shi 「死, し or シ」 means "Death."
Hīragi 「柊」 literally means "Holly."
She usually calls Yūichirō by the nickname "Yu-san" (

優さん

Yū-san

?

) in Japanese.
According to the light novel, she and her sister Mahiru were born as part-demons.[26]
She can't cook.[27]
Shinoa is the youngest and shortest member of her squad.
From the Osaka Arc, she is sixteen years old.[2]
According to the TV Anime 108 Fanbook:[28]

She does not have a favorite color.
To her, a person that gets bullied easily is Mitsu.

According to the Manga 8.5 Fanbook:[1]

She likes Pocky.
Interests/Likes: Originally had no interests, but lately has been thinking about her comrades/ Yu / Methods to increase her bust size.
Favorite food: Food with cheese / Mont Blanc.
What she looks for in the opposite sex: A prince on a white horse, of course. Oh, but what kind of person is this Prince Charming? He came from The Little Red Riding Hood, right?

In the popularity poll, Shinoa earned 2nd place with 4,074 points.[29] In the 2019 popularity poll, Shinoa is ranked at 5th place with 2,793 votes.[30]
She loves embracing people.[citation needed]
She is too short to drive.[7]
Shinoa gets teased/mocked for her height.[7]
References
Community content is available under
CC-BY-SA
unless otherwise noted.