Shinoa Hīragi (柊 シノア, Hīragi Shinoa?) is a main character in the Seraph of the End anime. She is appointed as Yūichirō Hyakuya's supervisor during his suspension and acts as a sergeant of the Japanese Imperial Demon Army. The leader of her Shinoa Squad (シノア隊, Shinoa-tai?) in the Moon Demon Company, Shinoa would have Yu join along with Yoichi Saotome, then Shihō Kimizuki and Mitsuba Sangū. Shinoa is the younger sister to Mahiru Hīragi and from the prestigious and rich Hīragi Family that rules the army.
Working with Guren Ichinose, she is tasked with clearing a vampire lair and freeing the humans within. After, Shinoa would take part in the defence of Shinjuku from a large scale vampire invasion. With her squad, Shinoa would be joined by Makoto Narumi and participate in the mission targeting vampire nobles in the city of Nagoya. Along with Shinya Hīragi she helped defeat Lucal Wesker. In the retreat to the airport, Shinoa helped save Mikaela Hyakuya
Note: This is the page for Shinoa in the anime, for the article detailing Shinoa in other formats see: Shinoa Hīragi
Appearance
[
]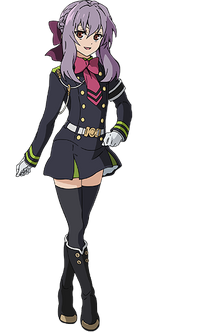 She has a petite, thin figure and is physically shorter compared to other girls. Her height is an issue when it comes to seeing over the steering wheel of a truck. Shinoa's long lavender colored hair reaches over her shoulders at the front and is pinned up at the back with a magenta bow holding it in place with side braids as well.
For clothing, she is shown wearing her school uniform, a sailor fuku which consists of a grey blouse with black cuffs that have teal trim in the middle. It has a black sailor-style collar with has teal trim and a single five teal petal design in the middle. The ribbon of the uniform is also teal and is tied in the front and laced through a loop attached to the blouse. The bottom is a black skirt. She wore it with dark blue knee high socks and white shoes.
Her Japanese Imperial Demon Army uniform consists of a long-sleeved black coat with a standing collar which has a magenta bow tie around it. The coat has two rows of gold buttons on the front, light green details including the shoulder epaulets, which has a fourragère passing under and around her right side. Along with that, she wears a pair of white gloves, an armband on her left arm, and a white web belt with a gold waist-plate. She also wears the standard black skirt, dark gray thigh-high socks and knee-high black boots.
Her casual appearance does not differentiate much from her army uniform. The minor differences are that she does not have her gloves along with the bow tie on her collar and wears a white long-sleeved dress shirt with a camisole over it.
Personality
[
]
Shinoa has a merry sarcastic attitude where she loves teasing others and is quite dry-humored. She tends to smirk before performing her antics. Shinoa is quite fond of inventing joyful stories on situations, such as Yu praising her appearance to him and Mitsuba falling in love.
Encouraging, after praising Yu she told Mitsuba that the two troublemakers were the Lieutenant Colonel's favourites, and that she bets he put Mitsuba on the squad to make them better soldiers to prod her into helping resolve Yu and Kimizuki's bickering. Although whimsical and even light hearted around serious matters, Shinoa does show anger when people are endangered, raising her voice when she was discussing how complying with Guren's order was what caused Yu to lose control.
Explaining matters depends on the circumstances, as a leader of her squad, Shinoa takes a calm and strategic approach to situations. In drastic measures, such as rescuing Guren, she directs her squad to stay quiet and follow her lead. Shinoa takes her time to explain scenarios like leaving people behind to help Yu and she understands how others may be feeling. She is sympathetic and asks Guren to not have Yu and Kimizuki attack Yoichi when he was a demon.
After losing the mock battle between her squad and Guren's three-person squad, Shinoa finally realized the fear of losing someone important to her, and even a tiny mistake or her pranks can cost her family their lives. Also, she and her squad can grow even stronger and the closer they grow, the more powerful they shall become. She could identify this in others; it was Shinoa who recognized and defended Mika from her own comrades who were attacking him as a hostile vampire. Shinoa struck away a Major General to keep Mika safe and allowed him to escape with Yu who he had come to get.
Shinoa has a vulnerable complex about her short stature when Yu and Kimizuki teased her for being too short to drive a car. She laughs drily before proceeding to materialize her Cursed Gear to physically teach them a lesson. She is also shy when it comes to her feelings concerning Yu.
History
[
]
She details how her elder sister, Mahiru died at some point. Shinoa declined a higher station in the army that her status as a Hīragi could afford her.
Story
[
]
Story: Shinoa Hīragi (Anime)
Powers and Abilities
[
]
Equipment
[
]
Cursed Gear
[
]
Shinoa wields Shikama Dōji, of which the physical weapon is a large black styled scythe. The back of the chine is black on top with the green blade edge section underneath. The tang is also black and is an asymmetrical feature, the heel is a sharpened point similar to its opposite end at the base of the weapon. The snaith is slightly longer than the huge blade itself and makes for a very thin elegant handle yet it is balanced enough in terms of weight to be wielded effortlessly, usually two handedly. A fighting style is to spin the weapon in a circular motion where the curved toe is able to break into solid ground. The cursed gear can also cut through lower ranking vampire swords completely, and deflect the ranged power of a vampire noble. It is very effective at reaping through vampires which burn away from physical contact with the scythe. Shikama Dōji can also manifest as a large volcanic like creature of a blackened upper torso with detached clawed hands over a fiery orange body. This has a molten shining eye and the being can be directed to strike other targets.
Relationships
[
]
Main article: Shinoa Hīragi/Relationships
Gallery
[
]
Main article: Shinoa Hīragi/Image Gallery#Anime
Quotes
[
]
Trivia
[
]
Four 「四」 can be read as "Shi" 「し」. Shi 「死, し or シ」 means "Death."
Hīragi 「柊」 literally means "Holly."
She usually calls Yūichirō by the nickname "Yu-san" (

優さん

Yū-san

?

) in Japanese.
Notes
[
]
References
[
]
[

]